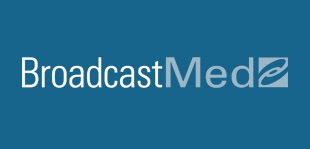 Farmington, CT. – BroadcastMed, Inc. (BroadcastMed) announced today it has closed a majority investment from 424 Capital (424) in early December 2020. The investment in BroadcastMed will support continued growth and expansion of the Company's content creation services and marketing analytics platform powered by MD-ID technology.
BroadcastMed is a digital medical broadcasting company that creates and distributes educational content to physicians, allied healthcare professionals, and patients. It produces live and on-demand programs, and develops digital strategies for pharmaceuticals, medical device manufacturers, and national healthcare organizations.
BroadcastMed closes investment supporting growth of its technology platform and healthcare content marketing services.
"BroadcastMed's partnership with 424 provides exciting new energy around our commitment to defining and delivering the very best in Healthcare Intelligence. The partnership strengthens our value proposition and promises to energize our innovation for years to come" said Peter Gailey, President and Co-Founder of BroadcastMed.
"We have built an incredibly effective content marketing platform that capitalizes on the educational and engagement value of video as a medium for advancing healthcare intelligence. Not only is our technology best-in-class but our membership is now approaching 1 million verified physicians. BroadcastMed has a tremendous foundation. We see our alliance with 424 Capital as a key component to accelerating our growth trajectory and creating an unrivaled solution for educating and informing clinicians around the globe." said Ross Joel, CEO and Co-Founder of BroadcastMed
"424 Capital is proud to partner with Ross, Pete, and the entire BroadcastMed team. They have built an important and unique business that advances provider knowledge and delivers the latest medical insights at a breadth and scale that is truly exciting. Along with longtime 424 partners Eagle Private Capital, and Plexus Capital, we are thrilled to be a part of the next phase of BroadcastMed's journey" remarked Brennan Mulcahey, Partner at 424 Capital.
About BroadcastMed:
Founded in 1994, BroadcastMed helps the world's most renowned healthcare brands engage, educate, and inspire physicians and healthcare providers by developing, aggregating and promoting cutting edge medical content to not only improve care delivery but also deliver measurable business results. This content is clinically comprehensive including full surgeries and updates on the latest medical advancements. Through the company's platform-as-a-service model, BroadcastMed is able to deliver technology and content marketing campaigns designed to generate audiences of healthcare providers. Its solutions support product launches, peer-to-peer education, continuing medical education (CME), clinical affairs and patient-focused health information. With nearly 1 million verified physicians subscribed to the newsletter and email campaigns, BroadcastMed has created an unrivaled audience that is made accessible to hospitals, pharmaceuticals, and medical device companies. https://broadcastmed.com/
About 424 Capital:
424 Capital is a growth capital partner that invests in lower middle market companies within technology and tech enabled services. 424 Capital works in partnership with founders and management teams to accelerate and scale for long-term growth. Focusing primarily on investments in healthcare and renewable energy, we invest in, empower and enable companies to step up, stand out, and make a difference in the world. For more information about 424 Capital, please visit 424capital.com.